The most recent weekly bulletin can be found by clicking here.

Freshen Our Facade
                                Before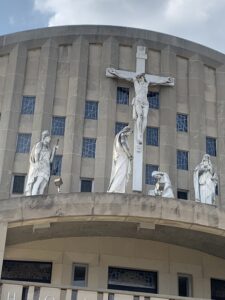 After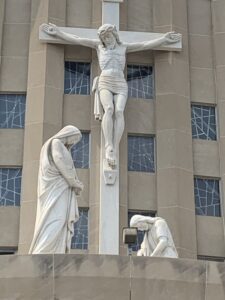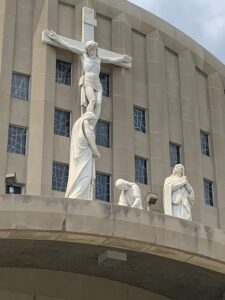 The obligation to attend Mass in person on Sundays and Holy Days will be reinstated beginning Sunday, August 15, 2021, the Solemnity of the Assumption of the Blessed Virgin Mary.
Statement of Archbishop Nelson Perez regarding the Obligation to attend Sunday Mass
Celebrating the Year of Saint Joseph
Marking 150 Years of St. Joseph as Patron of the Universal Church
(December 8, 2020 to December 8, 2021)
The Memorare to Saint Joseph
Remember, O most pure spouse of the Blessed Virgin Mary, my great protector, Saint Joseph, that no one ever had recourse to your protection, or implored your aid without obtaining relief. Confiding therefore in your goodness, I come before you. Do not turn down my petitions, foster father of the Redeemer, but graciously receive them. Amen.
*************************************
Act of Spiritual Communion
"My Jesus, I believe that You are present in the Most Blessed Sacrament.  I love You above all things, and I desire to receive You into my soul.  Since I cannot now receive You sacramentally, come at least spiritually into my heart.  I embrace You as if You were already there, and I unite myself wholly to You!  Never permit me to be separated from You!  Amen!"
********************************************************  

Archbishop Pérez' Facebook Page: 
http://www.facebook.com/ArchbishopPerez.
+++++++++++++++++++++++++++++++++++++++++++++++++++++++++++
The 2021 Catholic Charities Appeal
"Giving Hope to All"
The Catholic Charities Appeal is a time for our Parish to come together to extend our love, generosity, and concern to those who need it most.  Your support will provide education, food, shelter, and medical assistance.  Please prayerfully consider showing your support to this great call for action.  Families and individuals impacted by the COVID-19 pandemic need our help now more than ever.  Taking care of those in need is one of the important things we can do as Catholics.  Help the Archdiocese of Philadelphia reach the needed $12.5 million goal!  Thank you in advance and may God greatly bless your generosity!
**Please be sure to check the News/Events Page (under "Our Parish" tab above) for additional news and information.
Dear Friends,
Please continue to remember Holy Cross in your planned giving.  Parish operations and services depend upon the weekly offerings.  Electronic giving always remains an option.  Please click the icon on the bottom of this page for more information.  Weekly envelopes, of course, may still be mailed-in or dropped-off.  Thank you!
Our Lady of the Holy Cross!
Pray for us!
+++
E-Mail Scam Alert!
Please be alert to email scams requesting gift cards, money, or other assistance.  Such emails are not from any Holy Cross Staff!
The ADORATION CHAPEL hours are 9am to 7pm Monday to Friday until further notice.  PLEASE DO NOT VISIT THE CHAPEL IF YOU ARE SICK.

                           For those wishing to make a virtual visit, here is a link to online Perpetual Adoration: 
https://virtualadoration.home.blog
Opportunities to watch Mass online:
Eternal Word Television Network