2021 Hoops Mania Fundraiser
The Development Committee is running an exciting sweepstakes based on college basketball! Each card contains 8 random teams, seeded #1 thru #8, in college basketball's championship tournament. The teams for each seed # are announced a week before the tournament begins.  To play, simply add up the points your teams score throughout the entire tournament. The scores are tracked automatically and you will be notified if you win! Prizes range from $30 to $1,000.  Tickets will be sold after Masses. Each ticket is $20.00.
You can also donate/purchase a Hoops ticket online at https://www.charitymania.com/give/YB006- 1
2021 Calendar Fundraiser
Purchase a calendar for $50.00. Each calendar has a 4-digit number. Each day of the year there is a chanbce to win a cash prize. If your assigned number matches the PA nightly Pick 4 daily number (straight match) you win the cash prize on the calendar for that day. Fill out a calendar fundraiser form and return to the Business Office or place in the Sunday collection basket.  You can pay by check or online through parish giving. For any questions, please contact hcdevelopmentfund@gmail.com. Click on the link below to print out the form for the Calendar Fundraiser.
Fiscal Year 2020 Financial Report
Click on the link below to review the parish's Financial Report for Fiscal Year 2020 (July 1, 2019 thru June 30, 2020).  Included is the balance sheet showing the parish financial position as of October 9, 2020.
Fiscal Year 2020 Financial Report
First Holy Communion
Congratulations to our children that made their First Holy Communion here at Holy Cross on Saturday, May 1st!  It was a most beautiful day and our young people looked outstanding in their suits and dresses!  May you continue to deepen in your love for Jesus in the Eucharist!
Reconciliation
Confessions are heard on Saturdays 3:30-4:15 pm in the Lower Church.  
 Also, please note (for those who are sick or high risk due to COVID-19) the following from the Apostolic Penitentiary:
"Where the individual faithful find themselves in the painful impossibility of receiving sacramental absolution, it should be remembered that perfect contrition, coming from the love of God, beloved above all things, expressed by a sincere request for forgiveness (that which the penitent is at present able to express) and accompanied by votum confessionis, that is, by the firm resolution to have recourse, as soon as possible, to sacramental confession, obtains forgiveness of sins, even mortal ones (cf. CCC, no. 1452)."

Food Pantry
Through the generosity and willingness of our outstanding volunteers, the SVDP Food Pantry at Holy Cross remains open.  The Holy Cross Parish Family is especially grateful to people, businesses, and organizations throughout the wider community that have been so generous particularly during the current pandemic.  We are truly grateful and thank you in the name of those who have benefited from your kindness!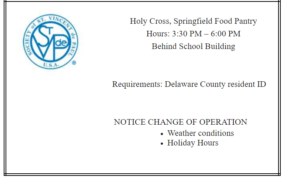 +